One Room Challenge 2018 Bedroom Reveal!
We have partnered with Raymour & Flanigan and received product in exchange for this post. All expressed opinions are 100% my own.
Welcome back friends and hello new faces who are visiting from the One Room Challenge site-I'm interior designer, Diane Rath of the Rath Project. Over here, we are BIG fans of color, pattern and mixing modern and classic design to create a collected and eclectic look. And in renovating our own home- a mid century ranch in Fairfield, Connecticut- we have stayed true to our principles- this makeover, in which we completed 2 (!) bedrooms in the span of 6 weeks, checked all our boxes!
If we look back at the timeline, which included a family trip to Disney, big big work events and 3 family birthdays, it's almost hard to believe that this happened at all. Quite frankly, if it wasn't for the support of our partners, Raymour & Flanigan, we may not have pulled this off. Not only did they supply the furniture for my son's new room, which was also the catalyst for the guest bedroom makeover, they worked the delivery around our hectic schedule. In less than 2 days, the smaller products that I wanted to store for later were at our front door, and my local store arranged the delivery and build of the larger pieces to be completed after our return from Florida (and after all the paint was dry!).
Here's a reminder of what Balthazar's room looked like before- when it was the guest room. If you've been following along, you'll remember that we decided to flip the rooms to give our 3 year old more space to spread out: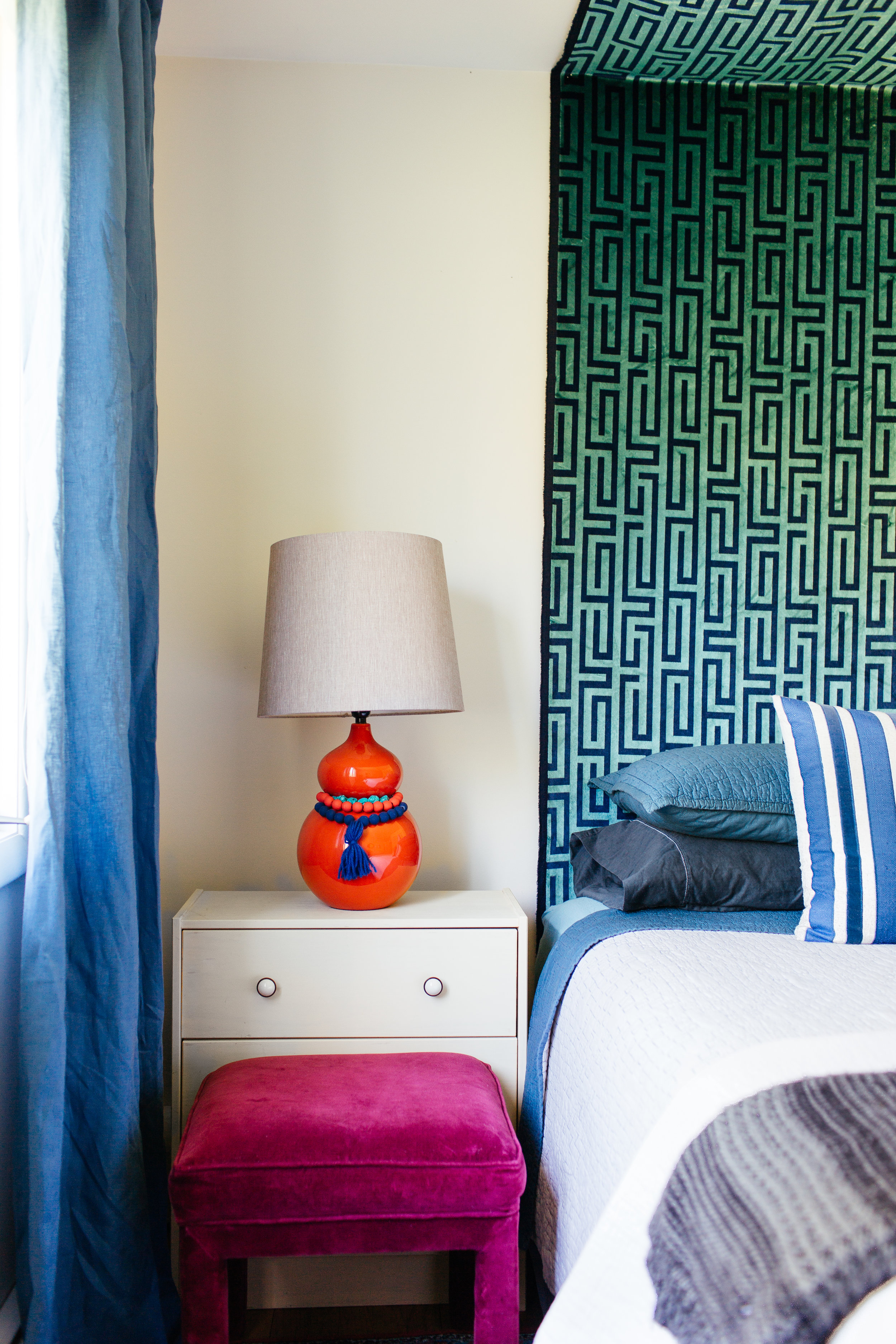 And here's the before of Zar's former bedroom (which is now the new guestroom):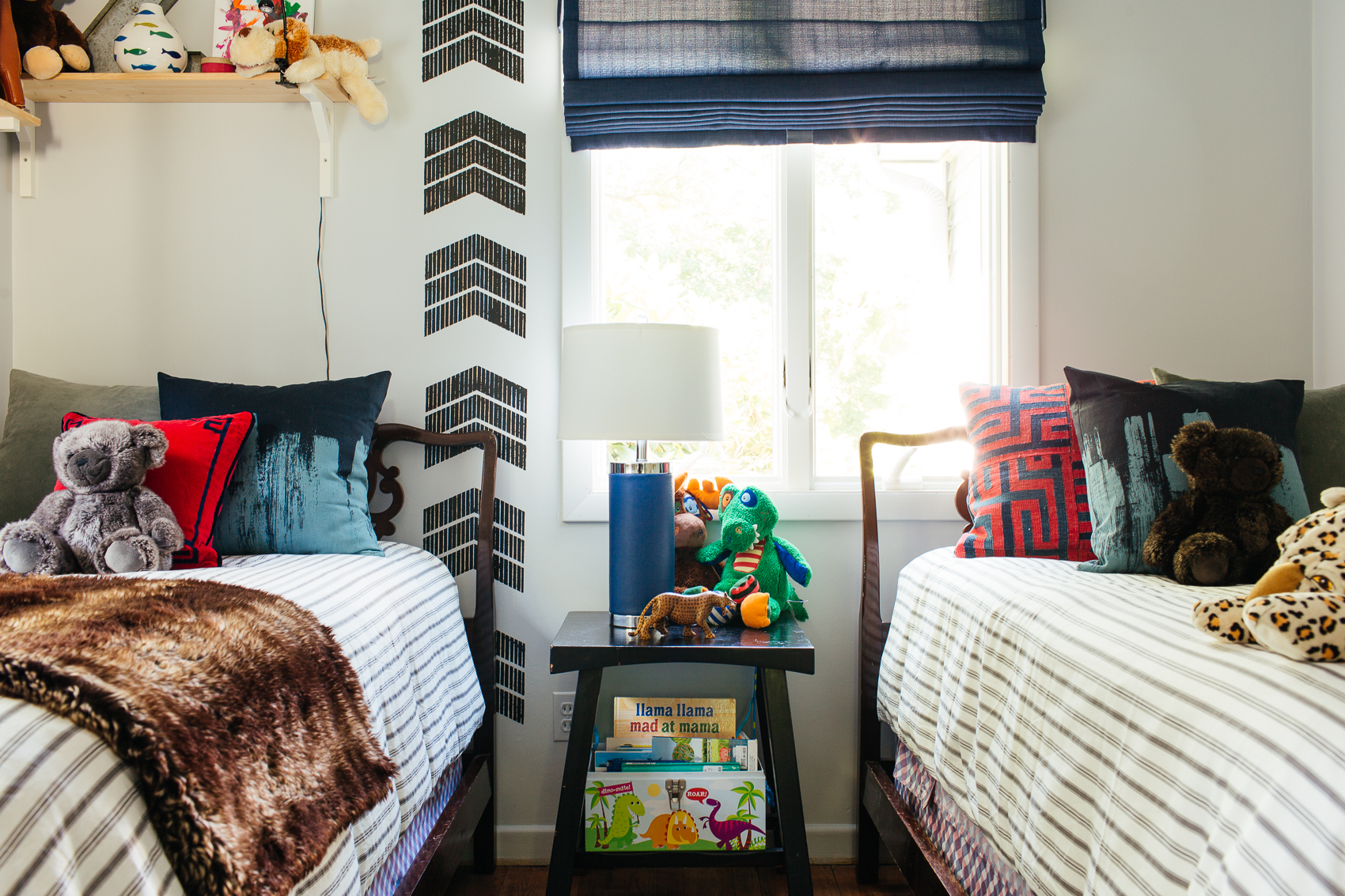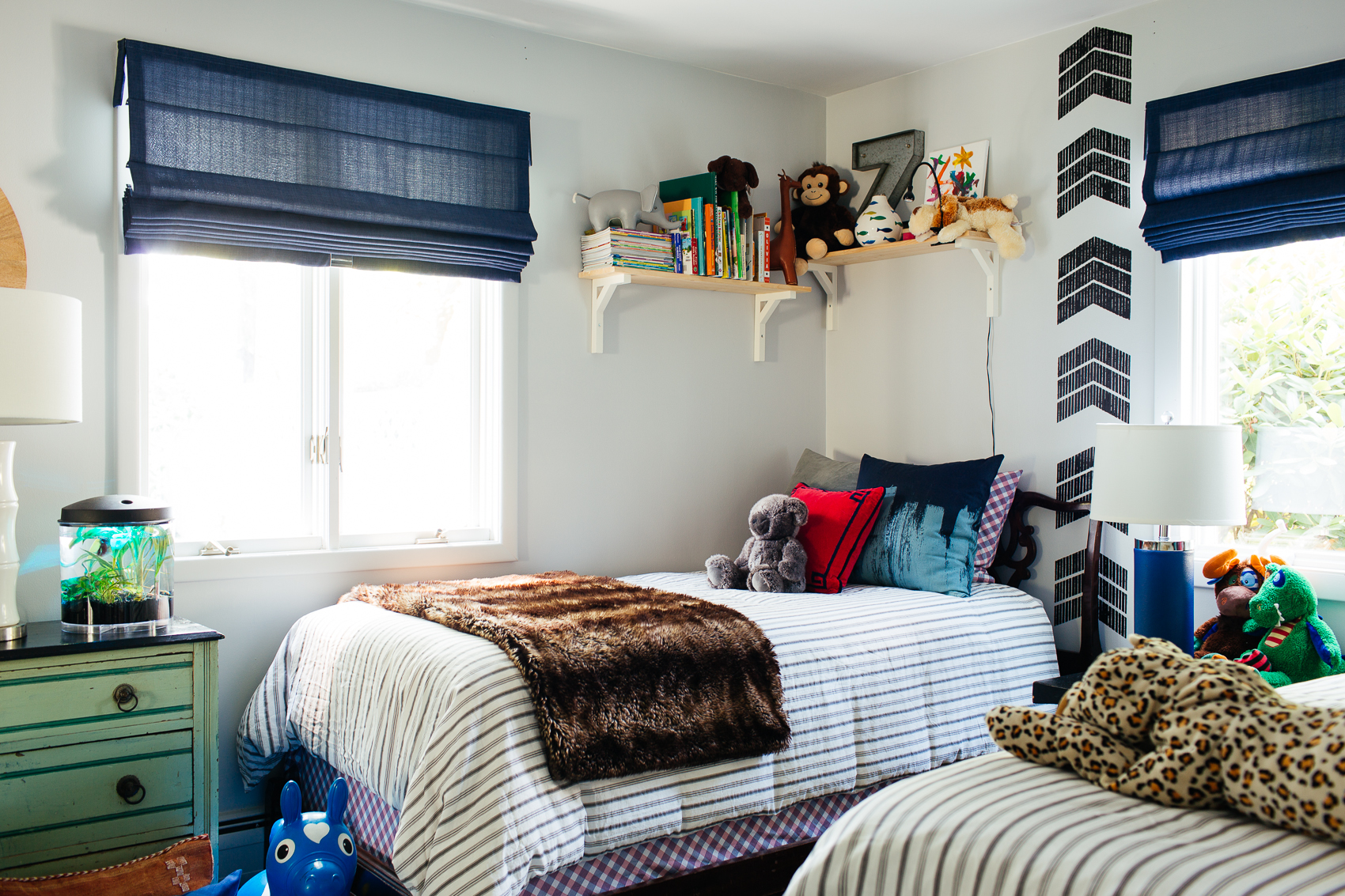 Now, what you've been waiting for...Zar's new room:
The Raymour & Flanigan rug was the jumping off point for so many other design decisions. Blended with a multitude of colors and an abstract pattern, we were able to bring in a rainbow of textiles, art and accessories!
In addition to painting the ceiling Sunburst yellow by Behr, the walls Rodeo grey by Benjamin Moore, and adding decorative crown moulding, we decided to separate the room into "zones" to make it more functional and to maximize the available space. The first, and most crucial is the "Sleep Zone." Our son was begging for bunk beds and these actually made the most sense since the piece takes up more vertical area than floor space. And when we opted for Raymour and Flanigan's trundle bed , we gained yet another spot for sleep overs (and a safe place for Zar to sleep until he's comfortable moving into the lower bunk).
The area to the left of the bed is what we consider the "Dressing Zone." That modern R&F chest of drawers (Does anyone still call it that? I definitely picked that one up from my mom.) is the perfect size for all of Zar's everyday clothes. And if you're wondering why I added pink flowers to his room, it's because he requested them and subsequently chose them from Whole Foods- he's learning from his momma : )
Before we get into the next zone, let's focus on this AWESOME chandelier* for a second!!! Because it lends such a modern vibe to the room, I wanted to juxtapose it with a more traditional architectural element and added the ceiling medallion. We love how it turned out!
(*I'm sad to report that as I'm writing this, the exact model is no longer available through Raymour & Flanigan. But I've found another similar model HERE)
The third area that we established is the "Reading & Play Zone." In order to corral all the toys and books (our kiddo is very organized), we created a bookcase using colorful cubes and furniture legs from Ikea. The balloon lights were another Ikea find, made by Balthazar (have I mentioned that this kid is incredible!)-paired with the coolest swivel chair from R&F, a mini library was formed!
I've already caught him snuggled up in the chair reading a book in the soft glow of the balloon lights (I promise you this picture was not staged!).
On the other side of the reading nook is the "Creating Zone." Here we added a very kid friendly desk -one that can be easily wiped free of paint, crayon marks and hardened playdough. Those cute containers keep writing utensils super accessible and make cleaning up easy, and the bulletin board gives Zar a space to display his work. I decided to add a gallery wall full of meaningful art (the Rold Gold photo is a nod to my husband's grandfather, former president of the company) and fun accessories that will keep the creative juices flowing.
Also, how good is this chair!! The lines mimic the mid century inspired lamp and I feel giddy every time I catch a glimpse!
Finally, we round out the tour with the "Storage Zone." The only change I made to the closets was switching the gold ring pulls to more kid appropriate rhino knobs (leftover from our bathroom remodel)!
I think it's safe to say that Zar is pretty pleased with his new room! And for this I must thank Linda, the host of the One Room Challenge, and House Beautiful, the official ORC media sponsor, for kicking things into overdrive for all of us participants- without them who knows what we would have accomplished in 6 short weeks! And again, a ginormous THANK YOU to our sponsor Raymour & Flanigan for being such a wonderful company to work with- within the post, I have linked all of the products that I used- just click on anything highlighted in blue and you'll be taken straight to the product link on the site.
But let's not forget we did 2 bedrooms! However, rather than inundate you with pictures, I've decided to break this into 2 separate blog posts. I'll give you a little taste of what to come back for next week...
One more request for everyone here: go checkout the reveals of the other ORC participants- both featured and guest designers. The bloggers who have committed to this challenge have put in their hearts and souls and each of them deserve some love! And I'd like to send a Congratulations to all on the completion of yet another project!
Love and Creativity,
Diane