Glamorously Global Office Remodel- Inspired by D.I.Y. Genevieve Gorder Edition
This post was done in collaboration with Tempaper. All opinions are 100% mine.
I would be lying if I said that this project was quick and easy. Not only did we take on renovating the entire office, but we had some major snow storms this month which meant that my son was home from school more than he should have been-and mommy doesn't get much d.i.y.'ing done when the contents of cabinets are being "reorganized" and crayons are making their way onto every reachable surface. Additionally, it was flu season, so you know how that goes, and family birthday season (so you know how that goes-haha).
Still, my husband and I pushed through and finished the space just in the nick of time! And because I think I have a teeny tiny fraction of sanity left, I'll be taking on yet another remodel this month while participating in the multi-blogger event: The One Room Challenge (hosted by Calling It Home and House Beautiful). I'm sure that by the time it's over you will be able to commit me ; )
This current blogger challenge was all about creating something that's inspired by the interior designer extraordinaire, Genevieve Gorder. And what better way to incorporate those worldly, glamorous designs than to use one of her very own prints! Genevieve has recently partnered up with Tempaper (a removable, self-adhesive wallpaper company) and when I saw this Urban Caterpillar pattern, I knew that I just had to have it in my life! 
Because I've used this product many times in the past (after all we have lived in countless NYC rentals- hello rental friendly design with major impact!) I reached out to Tempaper and they very generously donated some for our office. But...I didn't want to put it on the walls as usual, I HAD to get all crazy and put it on the ceiling : )
I couldn't be happier with the way it turned out- so dramatic! 
Now, I would not recommend wallpapering a ceiling to just anyone, because it IS HARD! But if you've applied it to other surfaces and have the "hang" of it (see what I did there) then I'd say give it a try- just schedule a neck and back massage immediately after. 
In addition to applying the paper, we added a wood feature on the ceiling which showcases the new modern chandelier. Painting the walls a deep creamy gray and the window trim, doors, and baseboard heaters black, immediately gave the room a moody, masculine and glamorous look (oh so Genevieve). Then, because we love punishing ourselves, we sanded the original hardwoods and stained them a dark chocolatey brown (we have yet to add polyurethane because we may change the color just a bit), then diy'ed that mid century-esque wrap-around shelving ( I will go into more detail about this in a future post ). And I almost forgot, I added yet another touch of global glam with my 3 min faux shade using an African indigo mud cloth that you may remember from our guest room. 
I sprinkled in some plants, pottery, books, boxes and trinkets and voila! An office that's totally functional and totally us!
Now check out THIS before and after...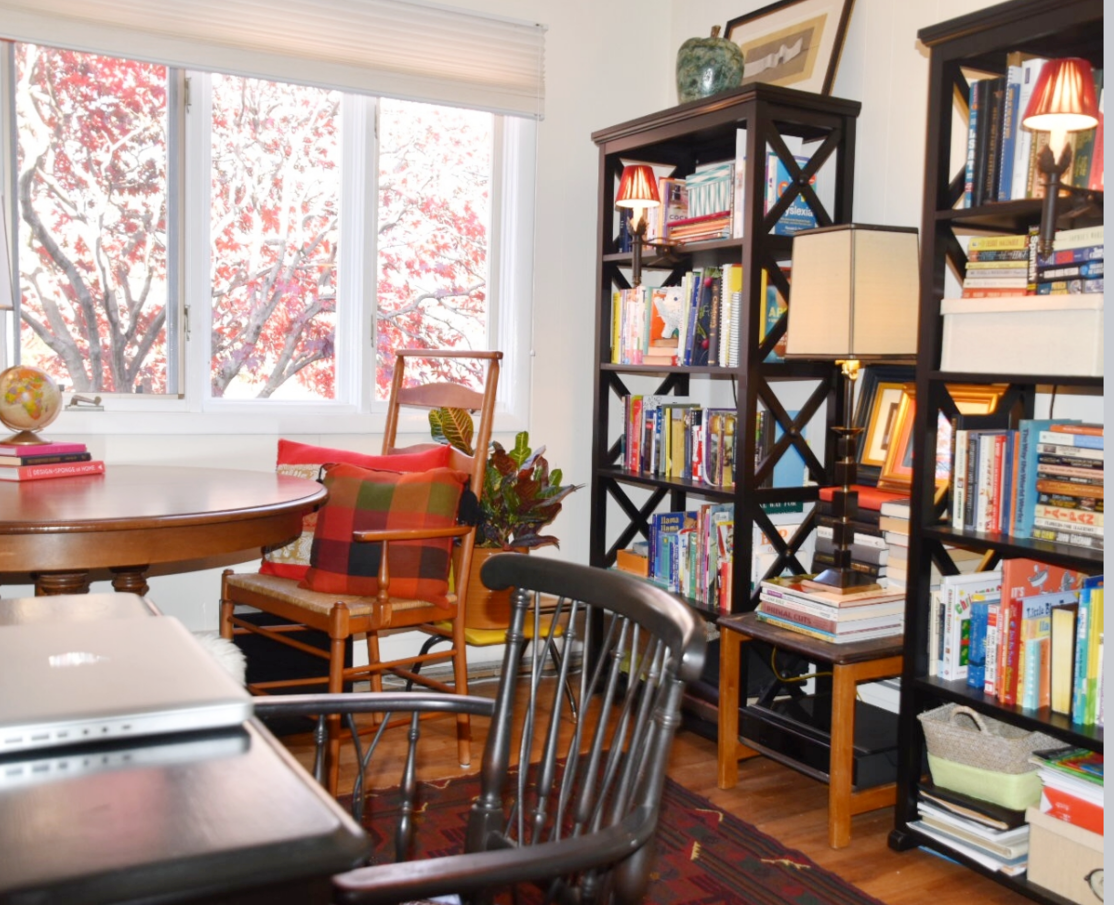 Don't forget, there are some other very talented ladies displaying their inner Genevieve on their blogs, so be sure to check those projects out for even more design inspiration- just click the links below!