Fireplace Facelift
It's easy for me to say that my favorite color to paint with is gray. I love the neutral backdrop that it provides a room, especially since I like to insert many many pops of color with furnishings and decor. Depending on the shade, gray can make wood tones look rich and warm, or it can be the perfect contrast to bright and exciting textiles. And for these reasons we chose to paint the walls and all of the window and door frames (for a contemporary look) with Benjamin Moore Platinum Gray (which is much lighter on the walls than it appears online). Yet, when it came time to focus on the living room design of our newest home, my husband and I realized that it would be important to break up the continuity with a dramatic color on the fireplace.
Our home was built in the 50's, but was renovated by the previous owner in the late 80's and early 90's. The last family had plastered over the original brick fireplace and added a gold and glass surround when they converted it to gas. When we moved in, the overall feel was dated (although appropriately so for the time period in which the last updates were made) and we were hoping to bring in some sophistication to what we call our "formal living area" (My husband and I have an idea in our heads that this room is where we will meet for cocktails when we have fancy dinner parties-hahaha!!). And even though I considered a monotone look, with a slightly darker gray on the fireplace, something was telling me to be bolder than that.
Aside from grays, I have always been a proponent for creamy, darker blues and greens. I suddenly had a vision that I wanted to bring to fruition, but was disappointed when after testing out a few options, I liked none of them. I later surprised myself when on a whim, I bought 2 cans of green chalkboard paint while shopping in Target! I have used chalkboard paint in the past to turn doors into doodling surfaces, but that was back when the idea was all the rage. This time though, I wasn't buying it for the sake of it being chalkboard paint, but because the color was the exact shade of milky dark green that I envisioned. I didn't even wait for the squares to dry after I tested it on the fireplace-I knew it was "the one" and I couldn't help but to immediately paint the entire facade.
And I'm so excited to have gone with my instinct because the result is a moody, luxurious feel that blends so well with our traditional pieces as well as our more eclectic finds (if you guys didn't already know this, my style has been leaning towards kooky therapist/history professor from a liberal arts university living in the late 60s-early 70s- there is no other way I can describe it really). Now I just have to whip up a cocktail party or two...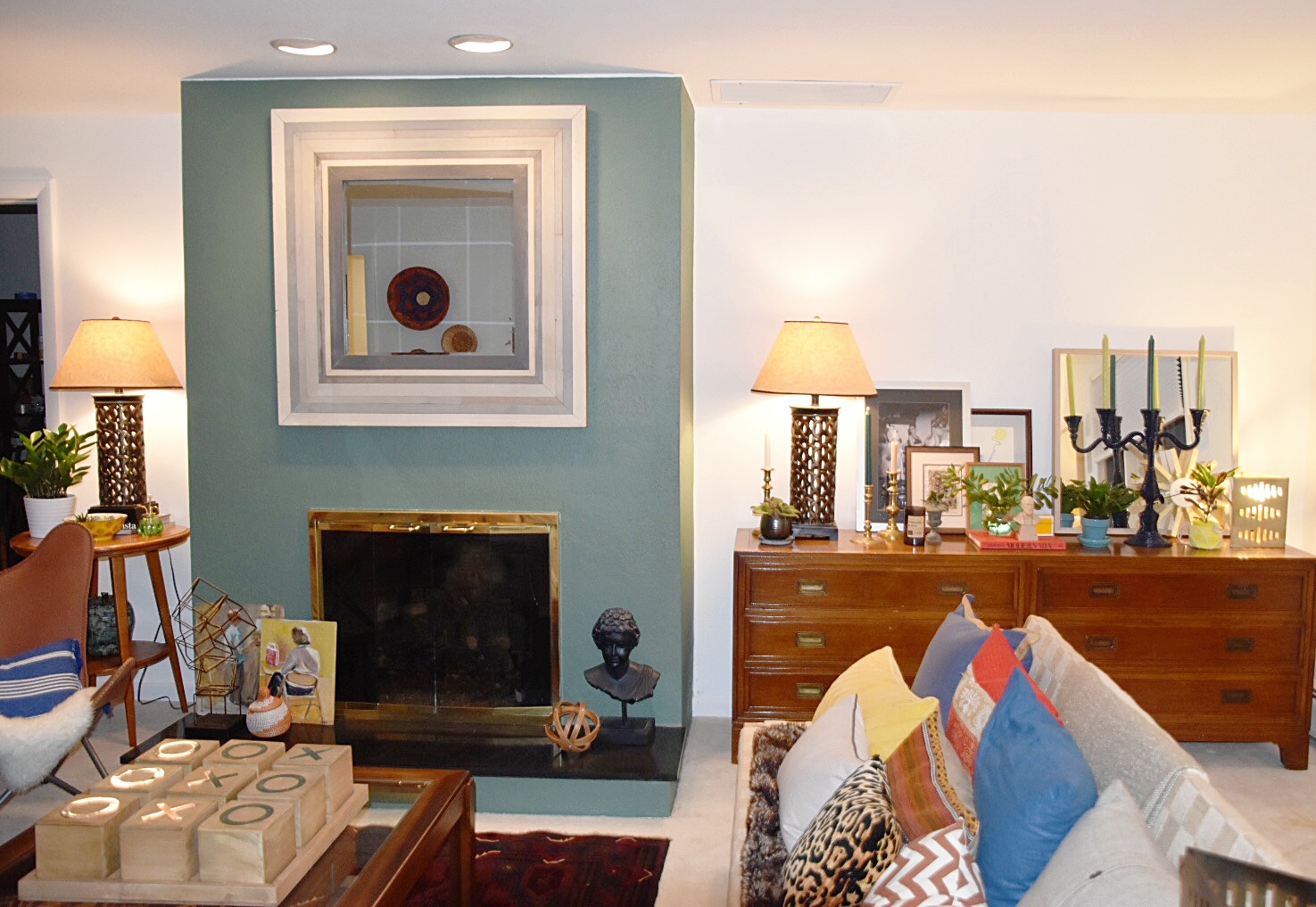 What is your favorite paint project?